Coming into this season, one of the biggest questions the Winnipeg Jets had was goaltending.  Unfortunately while sitting at the bottom of the NHL's goals against and save percentage stats nearly all year, the questions still remains,  which goalie do the Jets target going into the summer? There were many options going into this past season but head coach Paul Maurice as he has stated himself with the 3 goaltenders he was handed decided to go with Connor Hellebuyck & Michael Hutchinson while placing Ondrej Pavelec (his only veteran) on waivers.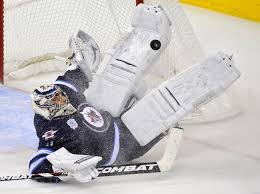 We believe the Jets feel their young highly touted sophmore keeper Connor Hellebuyck can one day be a legitimate number one goalie for them. However, with his lack of experience, this perhaps was the biggest gamble the team made going into this season. It did not pay off. And yet again, the team is left on the outside of a playoff spot, looking in. So with the added pressure on the organization to get back to the playoffs next season, they cannot afford to have their goaltending be a question mark again.
Here are 10 goalies the Jets should try and target for the upcoming season.  Either as Unrestricted Free Agents or by trade:

Marc-Andre Fleury
With 372 career wins and 2 Stanley Cups, Fleury is a proven winner. However, with Matt Murray's performance the end of last season, he was rumored to either be traded or selected by Vegas in expansion draft. Fleury also has a no-movement/modified no-trade clause, which may have also factored in him staying with the Pens. He would need to agree to waive it in order for him to accept a trade to the Jets. With the number of teams needing a #1 goalie, he may want to accept a trade to a team where he would not need to battle for playing time. Fleury is signed for 2 more years at a cap hit of $5.75 million, and it might be the perfect term for Jets to work with. The Jets could use him in a 60/40 split with Hellebuyck, giving Connor enough time to learn from Fleury in order to develop into a number one goalie.
Ben Bishop
In one of the more surprising deadline deals, the LA Kings acquired Bishop the same week Jonathan Quick returned to full health. The Jets had been rumored to have been interested in him, along with teams like Dallas and St.Louis, but his modified no-trade clause may have come into play. Add to the fact, that Bishop was traded for Peter Budaj and not much else, the Jets certainly could have made a better offer to the Lightning. This would have given them a chance to preview his abilities, and also the ability to have first crack at offering him an extension. Only 30 years old, Bishop has had some strong seasons with the Lightning, posting a 40 win season and two at 30+, along with some good playoff performances. The only knock on Bishop might be his injury history. However, he will definitely be one of the most sought after UFA goalies, and the chances of landing him with a term of less than 4 or 5 years are not very likely. If the Jets want him, they would have to make a bigger commitment, both in years and dollars.
Scott Darling
Darling has had a solid season as a backup to Corey Crawford, posting a 16-5-2 record with a .931 save percentage and 2 shutouts. Between Crawford's injury earlier in the season and his strong play, the team has given him additional playing time. A great asset is his height. At 6'6, Darling is one of the tallest netminders in the NHL (Bishop 6'7). He is set to become an UFA at the end of the season, unless the Blackhawks can work out a deal to keep him. Like Bishop, he will be of the top goalies available, and teams will likely be lining up for his services. The only downside is that Darling, who is 28, has only played as a backup for 3 seasons, so he has limited experience in the NHL. He does have playoff experience, when he filled in for a struggling Crawford in the first round, two seasons ago. Darling went 3-1, with a 2.21 GAA and .936 save percentage. Despite his lack of experience, it will still likely take a long-term deal to sign him, but likely at a cap-hit lower than Bishop. The Jets could use both him and Hellebuyck as a solid 1-2 combination for years to come.
Corey Schneider
The former Manitoba Moose goalie, played a few years with the Vancouver Canucks before being traded to the New Jersey Devils. He has kept the Devils competitive, despite the clear lack of talent up front in front of him. Schneider owns a solid career save percentage of .923. Earlier this season, rumor had the Devils wanting to move on from Schneider, and at only 30 years old, he should still have a lot of good years ahead of him. Schneider has 5 more years remaining on his contact at $6 million per season, and the Devils would likely want a goalie in return, plus more. If the Jets were to trade a package including Hellebuyck, they would then need to decide whether to keep Hutchinson as his back-up (not recommended), or go out and sign a serviceable back-up goalie.
Corey Crawford
It seems like each year, Blackhawks GM Stan Bowman needs to find ways of having his team fit under the cap, as a result of the $10.5 million that Jonathan Toews and Patrick Kane bring in. He does it so often that you can pretty much make a roster consisting of all the ex-players they have traded away over the last 7-8 years. This year, it could be Corey Crawford. If Bowman finds a way to get Darling to sign a team-friendly contract, this could lead to Crawford being traded. In previous years, the Jets have been included in these rumors. The Jets may want Chicago to eat up some of the 3 years he has remaining, at $6 million per year. With 3 Stanley Cup rings, Crawford's winning pedigree would be a welcome addition to the team.

Brian Elliott
The former St.Louis Blues starter was signed to a 1 year contract by Calgary, and after a slow start has been recently playing well during Flames recent long winning streak and playoff push. Elliott also had a good playoff run last season with the Blues, up until they were ousted by San Jose Sharks. Elliott is 31 years old and has plenty of NHL experience, after first breaking into the NHL with the Ottawa Senators in 2008/09. The Flames decide not extend him, he could be a good value signing for the Jets on a short-term deal, while allowing Hellebuyck to continue to grow into the starting role.

Jaroslav Halak
Halak did not have great start to his season, and a much publicized spat between his agent, Allan Walsh, and the team did not help. He became available to all clubs in December, when the New York Islanders waived him. However, no team was interested in taking on his contract, which had this and next season remaining, at a cap hit of $4.5 million. However, since his demotion to the AHL, he has a record of 15-4-3 record with 2 shutouts and a save percentage of .931. He also has 206 career NHL wins, along with 40 shutouts. If the Jets could work out a trade with Isles, getting Halak to play for them for one year might be all the time needed for Hellebuyck to develop into their #1 goalie. Like Pavelec, Halak would also be playing for a contract and his pride. This might be the most ideal option available for the Jets.

Steve Mason
Playing in what appears to be his final season with the Philadelphia Flyers, Mason's career has rebounded after a poor start with his original club, the Columbus Blue Jackets. Mason, who will be an UFA at the end of this season, has put up some decent stats, playing 50+ games each season since being with the Flyers. He has had a 30+ win season and has recorded a total of 14 shutouts. Even though this season appears to have been a letdown for both for himself and the team, it might be good time for the Jets to buy low on him. He may end up being a perfect candidate for a rebound season while also mentoring Hellebuyck.

Craig Anderson
Anderson has had 7 successful seasons with Ottawa Senators and will be in the final year of a 3-year contract, which will pay him $4.2 million. The Senators recently traded for goalie Mike Condon, who filled in well while Anderson was away from the team. While Anderson may not be a good candidate to be traded, due to his wife's health issues, if the Senators do not plan to keep or extend him, he could become available. Anderson has put up some solid numbers with the Senators, including 22 shutouts over the past 4 seasons and a .916 career save percentage. He could be a great addition to help the Jets finally return to the playoffs.

Aaron Dell
The Jets have probably seen enough of Dell this season to be impressed with his play. Dell played in 2 out the 3 games that the Jets-Sharks have played this season, and he won both of them. Although he has not played much, he has made the most of his opportunity, with a 9-3-1 record, a 1.81 GAA, and a save percentage of .935. He may be a darkhorse player for the Jets to actually acquire, but if you think of other former backups, like Thomas Greiss and Cam Talbot, who made the most of their opportunities, Dell could be one of them. Although he is one of the shortest goalies, at 6'0, this hasn't stopped him from making it to the NHL. He could be an ideal and solid backup for years to come.
Mass D