Who is on the hot seat you ask? Here in Winnipeg there has been quite a bit of talk about whether Paul Maurice should still be the head coach of the Winnipeg Jets, even after he received an extension before the season began. His job appears to be safe, for now, but there are other coaches and GMs around the NHL who might find themselves out of a job sooner than later. Here are some candidates:
Marc Bergevin – GM Montreal Canadiens
Ever since the PK Subban trade, things seem to have quickly gone downhill for Marc Bergevin and the Les Habitants. The debate is still on whether they are better off with Shea Weber on their team instead of PK. One thing's for sure, Weber's contract term is scary for a player that may soon be on the downside of his career. At 32, including this season, the Habs are on the hook for nine more seasons at a cap hit of over $7.8 million
Since that trade, Bergevin has failed to address the team's number need, which is at centre. He may have had an opportunity to do so at the end of last season for a playoff run, by acquiring Matt Duchene from the Avalanche, but he insisted that he would not part with his top prospect on defence, Michael Sergachev. He said the same thing about Subban. The Habs then proceeded to make an early playoff exit, by losing to the New York Rangers. In the offseason, he changed his mind, and traded Sergachev to the Tampa Bay Lighting for Jonathan Drouin. While Drouin is considered one of the brightest young forwards in the game, the trade did not address the teams need up the middle.
Along with trading his biggest blue chip prospect, Bergevin allowed their most tenured defenceman, Andrei Markov, to sign in the KHL after not being able to come to terms on a contract. To fill the void, he then turned around and signed Mark Streit, who they have since waived and bought out. They also lost Alexei Emelin during the expansion draft, and prior to that he also traded Nathan Belieau to the Sabres for a 3rd round pick. In just one offseason, Bergevin somehow found a way to dismantle one of the team's biggest strengths.
Not surprisingly, the Habs are off to their worst start in over 75 years. While owner Geoff Molson says he does not want to make any drastic changes during the season, he may need to before Bergevin claims that he will never trade Carey Price.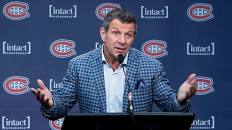 Jim Benning – GM Vancouver Canucks
It seems like forever since the Canucks were one game away from winning the Stanley Cup. Since then there has been a slow decline, with the team missing the playoffs three out of the four last seasons.
The Jim Benning era hasn't been much different than the Mike Gillis era. They have traded away their veteran players, but have failed to replace them with young prospects through their system. The only player that has really panned out for them is 2014 draft pick Bo Horvat. Since then Benning has swung and missed at drafting players like Jake Virtanen, when they could have landed either Nikolai Ehlers or William Nylander. While 2016 draft pick Olli Juolevi has not played an NHL game yet, they may have been better off taking a player like Matthew Tkachuk.
Benning has also made some poor free agent signings. The most recent being signing Loui Eriksson to a 6-year, $36 million contract. The hope was that he would play with and revitalize the Sedin twins. He has been a bust thus far and is out for over a month with an injury. The other question that keeps coming up is what should with the Sedins. However, it appears that they will play out their contracts which expire at the end of this season.
The Canucks have also been unlucky in the Draft Lottery in recent years. Maybe this is the season they finally win it and land the Swedish phenom Rasmus Dahlin, and have the baton passed to him by the Sedins. That might be the only way Benning keeps his job.
Alain Vigneault – Head Coach New York Rangers
There's an old adage that says coaches are hired to be fired. In the past four seasons, Alain Vigneault has led the New York Rangers to three 45+ wins seasons and one 50+ win season. So who would fire a coach with a record like that? In the past two seasons, the Rangers have had early playoff exits after reaching the Stanley Cup and Conference Finals before that. Add to that they have had a slow start to the season, and rumors have started that his message to the players is getting old and that he may have lost the room
In the offseason, the Rangers signed long-time head coach Lindy Ruff as an assistant coach, which immediately raised questions about Vigneault's job security. They also have another assistant in Scott Arniel, who is patiently waiting another chance to be a head coach in the NHL.
If their struggles continue, Vigneault might be the first coach fired this season. However, with his track record he won't be unemployed for long. Teams that may have been considering coaching changes, may jump at the opportunity to bring him in as their new head coach. Possibly even a second stint at coaching in Winnipeg (or Montreal).
Brian MacLellan/Barry Trotz – GM & Head Coach Washington Capitals
The Washington Capitals may have already won a Stanley Cup if it weren't for Sidney Crosby, Evgeni Malkin, and the Pittsburgh Penguins. Despite winning the President's Trophy in the past two seasons, the Capitals have been unable to make it past the 2nd round. Both times they lost to the Pens.
Like his predecessor Bruce Boudreau, Barry Trotz has been able to compile great regular season records. However, despite being heavily favored to go all the way, he has not even been able to lead the Caps to a long playoff run. This was also the case when he coached the Nashville Predators.
Meanwhile, GM Brian MacLellan made some head scratching moves by signing TJ Oshie to an 8-year, $46 million contract, and even more surprising, Evgeny Kuznetsov to an 8-year, $62.4 million. In order to stay cap compliant, he pretty much gave away forward Marcus Johannson to the New Jersey Devils for two draft picks. Johansson was their third leading scorer last season. The combination the Caps not meeting expectations and MacLellan struggling to properly manage the cap and roster is a bad combination.
After losing some key players, it's not likely they will win the President's Trophy again, but the team still believes they have what it takes to win it all. Alex Ovechkin and the Capitals have started the season very strong, but it really doesn't matter how well they play in the regular season. This team will only be measured as to how far they can go in the playoffs. If they falter, it might be time for the organization to go in another direction, from top to bottom.
Joel Quenneville – Head Coach Chicago Blackhawks
There's an old adage that says coaches…okay never mind! Joel Quenneville has been head coach of the Blackhawks since Barack Obama was first voted President of the United States. Throughout his tenure the Blackhawks have won 3 Stanley Cups, 1 President Trophy, and have not won less than 44 games in a season (with the exception of the lockout in 2013-14). Over the past decade, this is an organization that has gotten used to winning.
While they have kept up their winning ways, ever since signing Jonathan Toews and Patrick Kane to identical 8-year $84 million contracts, every offseason since GM Stan Bowman is tasked with trading experienced players in order to fit under the cap. Each season, it seems more and more of the roster is made up of inexperienced rookies, but Quenneville has found a way to keep his team near the top of the league. In the past two seasons while still having solid regular season records, the team have made two early playoff exits. It is not something they are used to. This past season, not only did they lose in the first round but they went out in four straight after only scoring three goals.
Immediately after their shocking exit, began about what changes the team would have to make to right the ship. Would Bowman do the unthinkable and fire Quenneville? He did not go that far, but he did the next closest thing by firing Coach Q's longtime assistant coach, Mike Kitchen. This would ignite rumors that there was a rift between Quenneville and upper management, regarding player and coaching personnel. These rumors were fueled even more on draft day, after Bowman traded Niklas Hjalmarsson to the Arizona Coyotes and then trading former Calder Trophy winner Artemi Panarin to the Columbus Blue Jackets in a deal for former Blackhawk Brendon Saad. Quenneville apparently immediately left the team meeting at the hotel, after hearing the news.
While the Blackhawks are off to a nice start this season, the situation between their head coach and management can change quickly with a long losing streak or another early playoff exit. If they do let him go, he will definitely not be out of work for long.
Chuck Fletcher – GM Minnesota Wild
The Minnesota Wild might be considered the Washington Capitals-West. Having made the playoffs the past five seasons and some strong regular seasons, the Wild have yet to make it to the Conference Finals.
Chuck Fletcher has been the Wild GM since 2009. While he has done well drafting and built a very competitive team, he has also made some bad moves and free agent signings, which have not worked out. One of his biggest trades was in 2011, when he traded a young Brent Burns and a 2nd pick to the San Jose Sharks for Devin Setoguchi, Charlie Coyle, and a 1st round pick. Burns has since been one of the top defencemen in the NHL.
The other big move he made was in 2013, when he signed UFA Ryan Suter and Zach Parise to identical 13-year $98 million contracts. The expectation was that, with Suter and Parise, the Wild would instantly become Stanley Cup contenders. Four years later they have had four early playoff exits. Add to that the fact that Parise has been battling a back injury for the past few seasons, which now requires and has sidelined him for about 2-3 months. While Suter has been a stalwart on defence for the Wild, the length of both of their contracts will be a problem for the team for years to come.
Fletcher also made some puzzling trades in the offseason. With the team having the most to lose in the expansion draft because of their depth on defence, he traded forward Erik Haula, and their 1st round pick Alex Tuch to the Vegas Golden Knights. This was so they could end up keeping defencemen Matt Dumba, Marco Scandella, and forward Eric Staal. However, shortly after, Fletcher traded Scandella and forward Jason Pominville to the Buffalo Sabres for forwards Marcus Foligno and Tyler Ennis. His moves during the last trade deadline, like acquiring Martin Hanzal for draft picks, also did not work out for the team.
There were rumblings that Fletcher was close to being fired in the offseason. It appears that his tenure as GM of the Wild could soon be over.