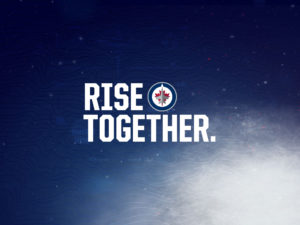 When I first saw the "Rise Together" tag last year as the Winnipeg Jets theme slogan, I was thinking this is bold.  I guess they new something that we didn't or maybe it just worked out better than they could have ever imagined.  There is nothing better than welcoming a new season, except welcoming a new season with actual expectations.  Great for the fans, maybe not so much for the team.  But if one actually wants to get to the next level (ex: winning the holy grail of hockey, Lord Stanley's Cup), it will be something the team will eventually look forward to.  It's called confidence.  Not cockiness but a confident attitude is a must.  It's amazing what that can do for a team.  Jets 1.0 had a slogan one year and it was "New Attitude, New Altitude".  Interesting as this may be what the Jets require this season except reversed "New Altitude, New Attitude".  Some would say, act like you have been there before.  Well the Jets now have been there before.
Let's dissect what we believe are the three key factors to the 2018-2019 NHL season that the Hockey News predicted would be the year your Winnipeg Jets would win the Stanley Cup!
Goaltending: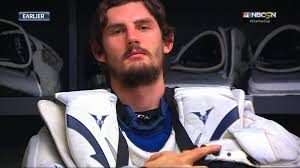 Do you want to predict who will make the playoffs each year?  Just look at the goaltender.  If your goalie plays well so does your team.  How is your coach doing?  Or how is the team defence this year?  Ask your goaltender.  Unfair but reality.  I don't think this area is talked about enough.  Connor Hellebuyck nearly won the Vezina trophy and the Jets finally made the playoffs with basically the same team they had the year before.  Yes, I realize everyone is a year older.  If your main man has a down season, an injury or maybe has a back up that can't pick up the slack, your team will most likely find themselves in big trouble.  Ask Cam Talbot and the Edmonton Oilers who went from everyone's pick to contend for the cup to not making the playoffs last year.  Even with the best player in the world on your roster, Connor McDavid.  If this doesn't tell you how important your goalie is, I'm not sure what does.  No pressure Connor, Laurent Brossoit or Eric Comrie is your back up.  Though we predict that Chevy knows something about Brossoit that we don't.  Highly touted goalies that don't pan out immediately are a dime a dozen in the NHL.  Though, there are many examples of this working out.  Look at Mike Smith or Devan Dubnyk.  Sometimes the right situation means everything.  Especially when you play in front of a confident team.
One More Year Experience: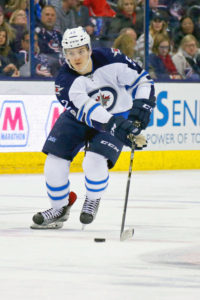 Generally one more year of experience for a roster like the Jets (young, fast and strong) is a good thing.  I can't imagine what another year for the likes of J. Roslovic, K. Connor, A. Copp, J. Morrissey and many others will do for this team.  Unless of course there is, the dreaded sophomore jinx or the, I have signed a new contract and can't live up to expectations curse.  I really believe the way the NHL is going, by players getting younger each and every year, the Jets should be fine in this area.  Remember when you are on a good "confident" team bringing in young players is a hell of a lot easier for them to develop and thrive in this type of environment.  Confidence breeds confidence.  We expect Roslovic in particular to step up and work that 3rd line centre role to his advantage.  I thought when Paul Maurice inserted him in the Las Vegas playoff series last year, he may have been the Jet's most dangerous player.  As we said numerous times last year, centre ice and goaltending is a must to win in this league.  No one needs to step up more than Jack Roslovic this year.  It wouldn't hurt either if Brian Little has a comeback season, most specifically in the offensive stats area.
Opening Day Roster Depth:
Forward Depth:
Connor, Sheifele, Wheeler
Ehlers, Little, Laine
Vesalainen, Roslovic, Perrealt
Copp, Lowry, Tanev
Dano, Petan, Lemieux
Defensive Depth:
Morrissey,Trouba
Morrow, Buff
Kulikov, Myers
Chiarrot,Poolman,Niku
Goalie Depth:
Hellebuyck, Brossoit, Comrie
The Winnipeg Jets may have the most talented roster in the NHL with so many choices to make.  The easy choice is to send Niku, and Poolman and either Lemieux or Vesalainen to the AHL and you don't lose anyone to waivers.  I have a feeling that Vesalainen will be pushed to make the team.  If this happens, Lemieux gets sent down and neither Dano or Petan will face waivers. If Lemieux is feisty enough to make the team a trade or more likely an injury to Petan or Dano will surface. All good problems to have.  A team does not win the cup without depth.  Vesalainen's interesting clause option to go back to Finland in year one of his contract may not be good for the team as he would need to be convinced to join the Moose.  In my opinion, joining the AHL's Moose would be the better option for his development. Though I'm sure the Finish Elite League (Liiga) would be close to being just as effective.  As for goaltending Eric Comrie is waiver exempt and most likely will be sent down to the Moose at least to start the season.
The only question left in this category is, do the Jets need anything else?  Team toughness is there but at the very minimum last year they had Matt Hendericks to drop the gloves just in case a message needed to be sent or Laine was being attacked.  Yeah, I know the NHL is not like that anymore but that isn't entirely true as long as this element is allowed to be in the game.  You still don't want the likes of Buff, Lowry or Wheeler dropping their mitts or taking roughing penalties when someone takes a run at Ehlers.  Most likely player in this category would be on the border of the roster and that is Brendan Lemieux.  The kid can score and drop them if he has to.  I'm a fan.  He needs an injury to get a sustained opportunity in this line up.  I think Lemieux's time will come at some point this season and could be a key ingredient for a possible playoff run.  Even though I was certain the Jets wanted Morrissey (who had no rights except to sit out) signed to a long term contract, they worked themselves some much needed cap space for potential playoff run additions by having him sign a low AVV bridge contract.  If all stays the same, a depth center, a gritty scoring winger, some lunch pale grit forwards and a veteran back up goalie may be some of the items required to put the icing on this roster's cake.  Assuming that they actually make the playoffs.  But if we learned anything from last year, the Jets are ready.  And just like last season the team will need to play confident as I noticed that for most of the season they were playing with a chip on their collective shoulders, lead by their captain Blake Wheeler.
Veteran Coach: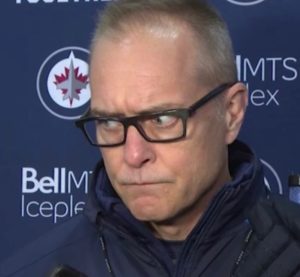 Coach Paul Maurice went from one of the most likely coaches to be fired in the media, to hero & genius in the span of a few months.   There is no one smarter in the organization than this man.  If you think that this isn't true you are not paying attention.  No one has his experience nor the pulse of this organization more than him.  Until he arrived, the organization was spinning.  He has brought much to the Jets organization but NHL legitimacy and professionalism to hockey operations has to be at the top of the list.  Not saying the Chevy or Chipper has not done this as well.  Actually, I don't think there is a better trio of coach, GM & owner in the league.  Just that it's different from the guy that interacts with all the players in the organization on a daily basis.
Now in the matter of coaching this is a different subject and not necessarily related.  Maurice has been with the Jets as head coach for what is deemed in professional sports, a long time.  He has the third longest tenure in the NHL behind Joel Quenneville in Chicago and Jon Cooper in Tampa Bay.  This is usually not a good stat for coaches as it usually means your time is coming to an end.  But Paul Maurice is a spitfire.  Literally as he used to play for the Windsor Spitfires in the OHL as a junior and started his coaching career there when he retired.  But I regress.  I am only stating facts and they may not even be Coach Maurice's fault (see goaltending above) but Po Mo has only made the playoffs as a coach back to back years once in his NHL career.  Keep in mind that year they went to the final after losing in the conference quarterfinals the year before with Carolina.  Let's face it, he is great at analyzing and his players seem to really like him.  Let's just hope that Hellebuyck plays well and doesn't get injured and everything should be okay.
As for expectations, a word of advice.  It's okay to be confident in your team as long as they are confident in themselves.  Rise Together was bold.  The team has definitely achieved a new altitude that should provide a confident attitude.  Great teams are great teams for a reason.  Will the Jets be a great team this season?  At the very least, act like you have been there before.  Be it team slogans, goalies, coaches, young and older players confidence is everything…
Frank Zappia @spinohockey