If you thought our regular season picks were fantastic (not really), here is our 2017 playoff picks!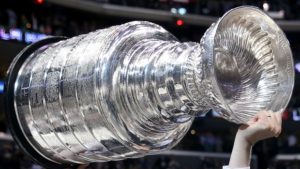 Western Conference
Nashville vs Chicago
Chicago's young players combined with the experience of Toews, Kane, and company will be too much for the Preds to handle. Although Nashville may have the edge on defence, no position is more important in the playoffs than goaltending, and Pekka Rinne play is not what it once was.
Key Player: Artemi Panarin. The Bread Man delivers with some key goals.
Prediction: MD: Blackhawks in 5.
FZ: Blackhawks in 6 (Predators give them trouble, but too many clutch players to handle)
St. Louis vs Minnesota
Minnesota has struggled late in the season and St. Louis has been hot, thanks in large part to the easiest schedule in the final stretch. Playoffs also tends to reset everything. I like the Wild's depth down the middle and on defence. I'm not sold on Jake Allen in net, and don't think he'll outplay Devan Dubnyk, who has had a strong season with 40 wins and a .923 save %.
Key Player: Devan Dubnyk. Although his playoff experience has been limited, he'll show why he is the Wild's MVP.
Prediction: MD: Wild in 6.
FZ: STL 6 (the Mike Yeo difference)
Edmonton vs San Jose
Oilers are back in the playoffs for the first time in over a decade and Todd McLellan faces his old team. They say teams need to lose in the playoffs before they can learn to win. I don't think it applies in this round. San Jose has some key injuries to Joe Thornton and Logan Couture, which may be too much to overcome. Even though the Sharks have the experience, I can't see them keeping up with the speed of McDavid and the Oilers.
Key Player: Patrick Maroon. One of a few Oilers with playoff experience. He'll benefit with McDavid getting the extra attention.
Prediction: MD & FZ: Oilers in 6. (Lucicitis)
Calgary vs Anaheim
The Ducks are a team built for the playoffs. At least that's what I've been told. Ryan Kesler always steps up his game in the playoffs by being a thorn in the opposite team's side. However, the Ducks will have their hands full with the 'new' Kesler on the Flames, in Matthew Tkachuk. With Cam Fowler likely out most of the series, this gives the edge to the Flames on defence. Flames forwards have edge on speed, but Ducks forwards have edge on size and experience. If you're looking for fireworks, this will be series to watch.
Key Player: Rickard Rackell. Led the Ducks in goals and continues to improve as the season goes on.
Prediction: MD: Ducks in (a hard fought) 7.
FZ: Flames in 7 (Too much Dmen & Johny Hockey)
Eastern Conference
Columbus vs Pittsburgh
Lots has been made about Pens chances due the Letang injury, but reality is they've been rolling along just fine without him, Evgeni Malkin, and a few other injuries. Mark Streit ends up being a nice pickup for the team at the deadline. For Columbus, they have been struggling in latter part of the season and have picked a bad time for their power play to fizzle. With their top rookie defenceman Zach Werenski hurting, it makes it tough for the Blue Jackets to pull this off. Too much firepower on the Pens for Bobrovsky to handle.
Key Player: Matt Murray. He'll pickup where he left off in last year's playoffs.
Prediction: Pens in 6.
FZ: BLUE JACKETS 7 (Torts & Bobrovsky in a shocker)
Toronto vs Washington
Another season, another President's Trophy win for the Caps, and another 'expected' long run for the Caps in the playoffs. Holtby will need to step up and be the difference for the Caps if they have any hopes of raising the Stanley Cup. They shouldn't have much trouble with the inexperienced Leafs in the first round (or will they?), but trouble lies ahead in the next round.
Key Player: Niklas Backstrom. The power play machine will keep motoring for the Caps.
Prediction: MD: Caps in 5.
FZ: Wash 7 (The eventual Champion always needs a scare in the first round)
NY Rangers vs Montreal
The Habs have found the top gear with new coach Claude Julien. GM's Marc Bergevin's trades were made to make the team bigger and tougher for the playoffs. Shea Weber seemed to slow down during playoffs for Preds last season, so his performance will be key if the Habs expect a long playoff run. Did I mention keeping Carey Price healthy will also be important? I'm not buying the New York Rangers much, especially with their questionable defence and average goaltending that King Henrik has provided in the last two seasons.
Key Player: Carey Price. Will lead the first round in GAA and shutouts.
Prediction: MD: Habs in 5.
FZ: Habs in 6 (The Weber-Julien-Price effect)
Boston vs Ottawa
Like the Habs, the Bruins have played well down the stretch with their new coach, winning key games to clinch a playoff spot. Plenty of playoff performer for the Bruins, including Brad Marchand, Patrice Bergeron, and David Krejci. Although Torey Krug is a big loss, this will give their other young defencemen to step up. While the Senators have the ability to pull this one off, I don't think they will be able to handle the Bruins clutch forwards.
Key Player: Patrice Bergeron. Face-off juggernaut steps up big when he has to.
Prediction: MD: Bruins in 6.
FZ: Otta 7 (Hate picking this one agains Rask,Bergeron & Marchand but just a feeling)
Stanley Cup Prediction: MD: Penguins over Blackhawks in 6.
FZ: STL vs EDM, MTL vs WASH, WASH WINS CUP OVER OILERS
by massimo d