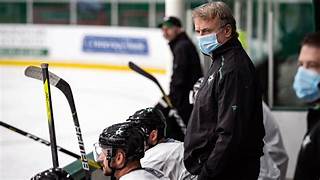 It's been a while and we are glad to be back (with the exception of our overly active twitter account). We thought we should start off with an important information column. Considering the NHL is planning to put on a 56 game season with limited or no fans at the games during a world pandemic, we felt that we should recap all the relevant information a real hockey fan like yourself would require. Key dates including playoff format, the new division alignments noted with the much anticipated "Canadian Division", roster, waiver, salary cap, covid 19 information and of course the perhaps forgotten Expansion Draft that will hover over the season like an eagle watching it's prey).
KEY DATES:
Dec. 31: Training camps open for seven teams that did not participate in the Return to Play Plan for the 2019-20 season (Anaheim Ducks, Buffalo Sabres, Detroit Red Wings, Los Angeles Kings, New Jersey Devils, Ottawa Senators and San Jose Sharks).
Jan. 3, 2021: Training camps open for the remaining 24 NHL teams. Note: No Preseason games will be played. Teams can invite up to 36 skaters and unlimited amount of goalies.
Jan. 13: Regular season begins. Teams will play a 56 intradivional game condschedule. Each of the eight teams in the East, Central and West divisions will play every other team in its division eight times, and each team in the North Division (seven teams based in Canada) will play every other team in its division nine or 10 times.
April 12: NHL Trade Deadline (3 p.m. ET).
May 8: End of regular season.
May 11*: Stanley Cup Playoffs begin. The top four teams in each division will qualify for the playoffs. The first two rounds will be intradivisional, with the first-place team playing the fourth-place team and the second-place team facing the third-place team in the first round. The four teams that advance from the second round to the Semifinal Round will be seeded by their points total in the regular season (No. 1 vs. No. 4; No. 2 vs. No. 3).
July 9*: Last possible day of Stanley Cup Final.
July 17: Deadline for teams to submit protected lists for 2021 NHL Expansion Draft (5 p.m. ET).
July 21: 2021 NHL Expansion Draft (8 p.m. ET) for the Seattle Kraken.
July 23: First round of 2021 NHL Draft.
July 24: Rounds 2-7 of 2021 NHL Draft.
July 28: Restricted free agent/unrestricted free agent signing period begins (12 p.m. ET).
* — subject to change
DIVISION ALIGNMENT: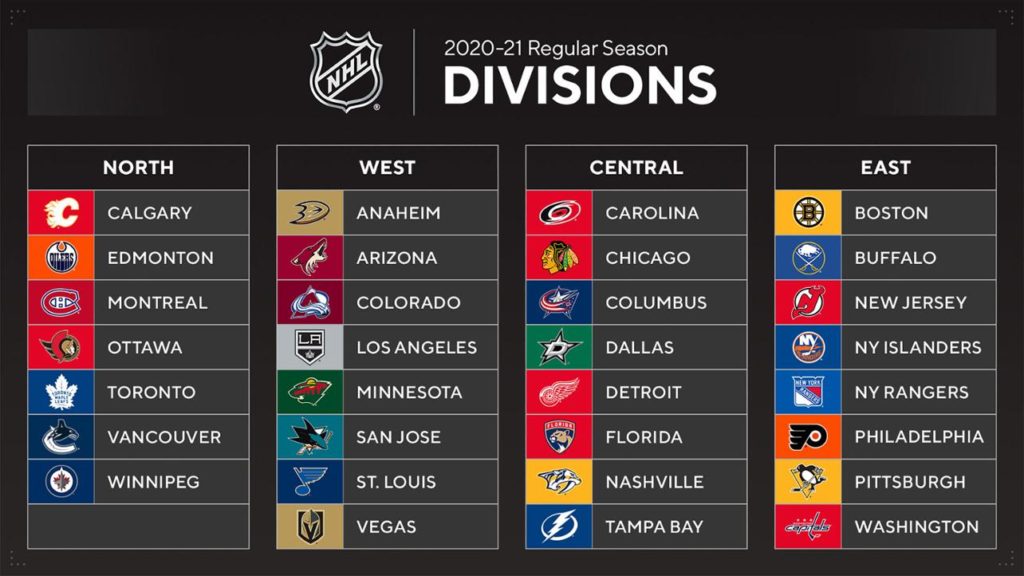 ROSTERS, WAIVERS & SALARY CAPS
During the regular season, the NHL roster limit will remain 23 players with a salary cap of $81.5 million. Each team will also have a taxi squad of 4-6 players that can practice and travel with the players on the NHL roster. Any team not carrying three goalies on its NHL roster must have at least one goalie on its taxi squad.
To be eligible to play in an NHL game, a player on the taxi squad must be recalled to the active roster by 5 p.m. ET on the date of the game. Goalies can be recalled after 5 p.m. ET if fewer than two goalies on the team's NHL roster are available to play.
Players required to clear waivers to be assigned to the American Hockey League also require waivers to be assigned to the taxi squad. Players assigned to the taxi squad will receive the salary they'd receive playing in the AHL and the impact on the team's salary cap will be the same as if the player is in the AHL.
COVID 19 TESTING & INFORMATION:
Players, coaches and staff will be tested daily throughout training camp and the first four weeks of the regular season. The NHL and NHLPA will reevaluate after that, consulting with medical personnel and infectious disease specialist and the data on positive tests, to determine if testing should shift to every other day.
During training camp, the NHL will announce League-wide results of testing without naming individuals with a confirmed positive test. During the regular season, the names of players with confirmed positive tests will be made public.
Those with a confirmed positive test will follow isolation guidelines consistent with local public health regulations. Players must also be cleared by a cardiologist and team physician before returning to play.
Teammates identified as a close contact to a player with a confirmed positive test won't be required to quarantine if they test negative and remain asymptomatic.
COVID 19 SAFETY PROTOCOLS
While in their home cities, players, coaches and staff should stay home when possible and not engage in unnecessary interactions with non-family members. Players, coaches and staff should diligently wear face coverings and following social distancing guidelines inside and outside team facilities.
Coaches are required to wear a face covering at all times, including on the bench, except when engaging in physical exertion on the ice and when eating and/or drinking.
All teams will travel on charter flights with assigned seats on planes and buses. While on the road, players, coaches and staff will be limited to the designated team hotel for that city, the game arena and practice rink. They cannot patronize restaurants, bars or shops outside those at the designated hotel.
Players, coaches and staff will not be permitted to use the hotel gym, have guests in their hotel rooms or have their rooms serviced by housekeeping during their visit.
Visiting teams cannot practice in other facilities owned or operated by third parties. Practices will not be open to the public.
EXPANSION DRAFT RULES:
Seattle was granted an expansion franchise by the NHL on Dec. 4, 2018 and will begin play in 2021-22. The Seattle Kraken will be in the Pacific Division with the Arizona Coyotes moving to the Central Division.
The 2021 NHL Expansion Draft will be under the same rules for Seattle as the Vegas Golden Knights in 2017. Seattle will select one player from each team excluding the Golden Knights for a total of 30 (14 forwards, nine defensemen and three goalies) not including additional players who may be acquired as the result of violations of the Expansion Draft rules.
Seattle must choose a minimum of 20 players under contract for the 2021-22 regular season and those with an aggregate Expansion Draft value that is between 60-100 percent of the prior season's upper limit for the salary cap. Seattle cannot buy out players chosen in the Expansion Draft earlier than the summer following its first season.
Current NHL teams can protect seven forwards, three defensemen and one goalie, or eight skaters (forwards/defensemen) and one goalie, under the following conditions.
* All players with no movement clauses at the time of the draft, and who decline to waive those clauses, must be protected and will be counted toward their team's applicable protection limits.
* All first- and second-year NHL players, and all unsigned draft choices, will be exempt from selection (and will not be counted toward protection limits.
In addition, all NHL teams must meet the following minimum requirements regarding players exposed for selection in the draft:
* One defenseman who is a) under contract in 2021-22 and b) played in at least 40 NHL games the prior season or played in at least 70 NHL games in the prior two seasons.
* Two forwards who are a) under contract in 2021-22 and b) played at least 40 NHL games the prior season or played in at least 70 NHL games in the prior two seasons.
* One goalie who is under contract in 2021-22 or will be a restricted free agent at the end of his current contract immediately prior to 2021-22. If a team elects to make a restricted free agent goalie available to meet this requirement, that goalie must have received his qualifying offer prior to the submission of the team's protected list.
* Players with potential career-ending injuries who have missed more than the previous 60 consecutive games (or who otherwise have been confirmed to have a career-threatening injury) may not be used to satisfy a team's player exposure requirements unless approval is received from the NHL. Such players also may be deemed exempt from selection.
We figure it would be best to have this information all in one place. Please use and enjoy.
@spinohockey