GOALIE: DANTE GIANNUZZI, Portland Winterhawks
2002, Rink Hockey Academy, Winnipeg, MB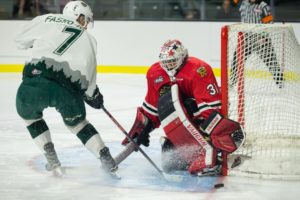 As we predicted in the past, we knew there was plenty of upside for this young man.  As quoted in our previous "Spin Spotlight" column about this future NHL prospect,
"Giannuzzi is mentally tough and has tons of big game experience both nationally and internationally.  He is a shoe in to be a top goalie pick in the Western Hockey League draft. Take our word for it, the lucky team won't be sorry…"
The Portland Winterhawks are definitely not sorry.  Voted the top WHL organization as surveyed by the Hockey News in 2017, Giannuzzi is showing them they made the right choice.  How many 16 year old goalies play in the CHL?  The answer?  Not many.  Well, you can add one to this year's crop.  Working against the odds and just turning 16, this impressive young man has made the opening day roster and back up goaltending duties for the CHL's pre season 7th ranked Winterhawks.  If you read the media around the team, it may not be to long before he challenges for the top duties.
As reported by Portland Winterhawks community blogger, Samantha Meese: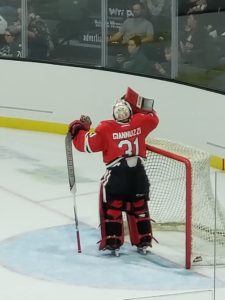 "Back-up plan: I was excited to see Shane Farkas on the NHL invite list. He has earned that opportunity with the Flames. That being said, I think his toughest competition this season may come from within. Based on his preseason performance, Dante Giannuzzi could very well end up as the starter this season."
Nothing will surprise us anymore about Giannuzzi.  His unique drive, quiet confidence and dedication to his craft are just a few of the many positive attributes that WHL followers will soon find out and love about him if they don't already know.
Spinorama Staff