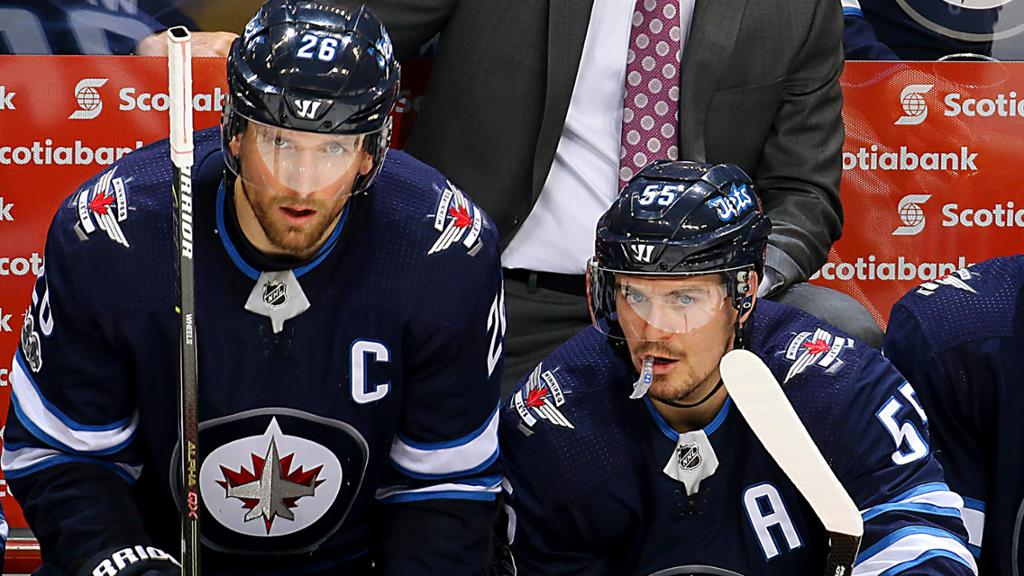 As Winnipeg Jets nation is feeling alone in this already lonely pandemic world, we felt necessary to provide hope and some wishful thinking in this troubled world of Jetsville. Is this the same team that was battling for first place only weeks ago? Let's first start with some history and will follow up with key concerns and talking points on this current Jets roster and management team. With six games left before the playoffs time is of the essence.
Key Points:
The Patrick Laine trade: After his opening 2 goals and 1 assist red hot start, the powers at be in Jetsville felt this was a good time to trade their star especially with the much talented Pierre Luc Dubois becoming available. But as we said at the time, the downside to this move is your top Right Winger is now Blake Wheeler followed by Mason Appleton and of course potentially losing your most prolific goal scorer. Let's not forget the other center/right winger to go in that trade was Jack Roslovic. I would argue you lost goals in this trade for center depth. Here is the thing though. The most powerful offensive team in the North Division became less offensive than the powerful Leafs or Oilers offence after this deal. Result is the Jets can't trade offence with these teams like they use to do. No track race in these match ups anymore. Please don't tell me Dubois is offensive. He is a good solid two-way center and needs to play that way. That's what his potential is.
Dubois expectations: Let me first point out that we like this player. He's 22 big and strong and a center. Hard to come by in this league. In fairness he has had a tough start between the Torts benching and the quarantining time after the trade. But let's be clear, eventually these become excuses. He needs to play big, strong and mean. The coach needs to get this through to him for him to have any impact on this team. Everyone is saying wait for playoffs. Maybe, but he really needs to show a mean streak and help set the tone in games. That's why the Jets wanted him and traded for him.
Center Depth: Presumably the Jets are now deeper at center but we will never know. Head coach Paul Maurice has not gone to the four headed monster of Scheifele, Stastny, Dubois and Lowry. Thompson has been good but having him on Lowry's wing works for me or have him take a seat to see what this looks like. Thompson is useful and can be thrown out for the odd draw on any line when things aren't working. Teams do it all the time. Take the draw and race to the bench for the change. Also worth mentioning is that Paul Stastny needs to play center. He is clearly their smartest center and is a waste of his true talents on the wing. Would have been interesting to see how he would have played between Laine and Ehlers this season and what it would have done for the team. But I digress.
Youthful Integration: As long as I can remember Stanley Cup Championship teams always have this mix of youthful players filled with vinegar. The likes of Vesalainen, Harkins, Gustafsson, Stanley and Heinola with the exception of Stanley have barely played. Why not insert these guys. It seems like when any of these players seem to play well in a game or two, they are quickly pulled out of the line up in place of a veteran. Why not work them in while resting guys? I realize there are few spots available but would have loved to see more integration of some of these players throughout the year. Too late now.
General Manager: Overall we like what Jets GM Kevin Cheveldayoff has done with building the current roster. But how has he done this year? First off we are going to assume a few things. Like we wrote in are preview column earlier this year, we new that there would be an offensive explosion on this roster. No one in the North division plays defence particularly well. I would assume that this team was built to out score teams (remember the Chevy tongue and cheek comment before the season on how he expects Patrik Laine to have a great year). In saying this there was no point to rush on picking up a much needed defenceman until the trade deadline. Big error in not picking one up though. Jordie Benn is good for depth but he needed a defenceman that can log minutes and more importantly play tough playoff minutes. On the forward side you traded 2 right wingers (see above) and 40 goals in the central which I have to think would have equated to much more than that in the North for 1 center and his 18 goals. Maybe he thought the young guys would pick up the slack? I guess they would have to play in order to see if that was the right move.
Coaching: We have said this numerous times. We are fans of coach Paul Maurice. In fact when he eventually moves on (which may be never) he should be offered a spot in the organization. He is a great hockey man and in my opinion you can never have enough of these in your organization. As the second longest tenured coach it's time to move on. There were rumours that Jon Cooper was going to get fired in Tampa before they won the cup for pete sake. This is the way it works for coaches in the NHL. This should be noted in the last point but we are not understanding the loyalty to coach Maurice. Its admirable but foolish. Coach is a fixer and came in when he was needed but firing the coach would most likely tweak the make up of the core of this group with which I believe is required.
The Core: Where there is smoke there is fire. We know Wheeler and Scheifele head the group. Morrissey is in there and I would venture to included Copp and Lowry. But looking into the past (all not confirmed of course). A fight with Buyfuglien, closed door meetings, Hendericks brought in a second time to help out, Laine and Roslovic wanting out and the insistence of 26 and 55 needing to play together. I know we have all heard the stories but what is going on this year? Something doesn't look right in Jetsville and here is our latest questions to the core group. Wheeler has a concussion and is told by the coach to sit out for the 5 game road trip. After the Tkachuk elbow Wheeler played and practiced the next day? Strange. Did something happen at practice? Probably just precautionary but captain Blake does have a tendency to go off and show his frustrations. Next Maurice which he basically never does benches his star center Mark Scheifele? You know, the one that will have his statue built right beside the Hawerchuk one in True North Square? Listen, I saw the extra long shift in question while it was happening and wondered myself why 55 wasn't going off. Typically this is not a mistake that gets a star player benched unless your name is John Tortorella and especially by Maurice. Scheifele doesn't strike me to have much attitude but maybe he does and maybe the coach decided it may be a good time to put him in his place. This move is the most staggering in recent memory. It is something that makes me feel there is a bigger problem at work.
Top 6 vs Bottom 6: Remember how the bottom six was the bone of contention with many. I would argue that this year the bottom six (and Nik Ehlers) in some strange way is carrying the top six. This is a tough point to argue but it may be better dealt with my saying the top six has been disappointing and the bottom six has at the very minimum been playing up to expectations or better.
Challenges Moving Forward:
Goaltending: Look, no one believes in Connor Hellebuyck more than we do. He is a Vezina trophy winner and a runner up but so was Pekka Rinne. Why am I mentioning this? Helle (love his confidence) but he will need to prove to this writer at least that he can do it in the playoffs. This is not an attack on Helle just the facts. The last three playoff series he has played in (if you count the Flames one last year) he has not been good. Sure I know he has one the Vezina in between but look at what I'm seeing. He got outplayed by Marc Andre Fleury in 2018 but more importantly he couldn't make the timely crazy saves he needed in that series. For this writer he gets a pass on that one. Fleury was out of this world. In 2019, he let in some awful goals to the eventual Stanley Cup champions the St Louis Blues at the worst times (especially in the dying moments of a game or period). I'm not being a homer. Had he played well in that series the Jets would have won it and who knows what would have happened after that. I don't want to even talk about the pre playoff series with the Flames in 2020. Even with Laine and Scheifele out of the line up due to injury it was all the more reason to step up. He was average at best. Like any team in the NHL, if Helle doesn't step up this year and play over his head when it counts the Jets will be on the golf course in no time this spring.
Going into the playoffs: If things go well, the Winnipeg Jets will get out of their current funk and start winning some games going into the playoffs. Maybe the losing streak is just in time but losing team confidence never helps. On the wishful thinking side, the Jets need to infuse some young vinegar, get some goaltending and march into the playoffs on a mini roll. Besides how many times can you lose to the same team? Doesn't the law of averages state that if in fact they do play the Oilers, the Jets should win at least 4 of the next 7 games? Wishful thinking you say? We are in a pandemic. What else is there?
Send your comments to @spinohockey or @frankzappia1