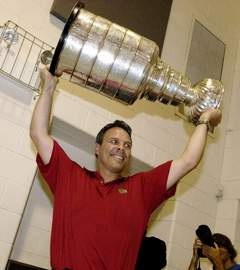 It's finally that time of year for the Winnipeg Jets franchise? Yes, we can finally talk about what the Jets will need to push this team closer to Lord Stanley's cup! Assuming of course there is no monumental collapse. Did I just say that? We offer our help to GM Kevin Cheveldayoff to achieve the ultimate goal…
NEEDS
Let's start off by saying that in order to win in the playoffs, among other intangibles we believe you need two major things . Goaltending and center ice play. Let's assume we have the goaltending part (we hope). Center ice play in the playoffs is crucial for match ups and overall depth!
Let us proudly say we have been on the Winnipeg Jets need a center thing since early December (See our twitter account @spinohockey or @frankzappia1). Seems pretty straight forward to us that an "impact center" is exactly what they need. Why you ask? First off, if coaching staff refuse to play Mark Scheifele with Patrik Laine, they will need to go out and grab a center who can consistently feed him the puck. Think about it? Leaf nation is getting on Mike Babcock for not playing Austin Matthews on the power play enough. Jet fans need to get on management and coaching staff to find a center to play with possibly the leagues most dangerous scorer. You may ask why? Laine has 20 goals (tied for 10th in the league). Looking at the numbers closer he has 11 on the power play (good for second in the league) but has only 9 at even strength? That doesn't even register in the top 30 even strength snipers in the league. Please don't take this as we are not Bryan Little fans or we think that Laine is not playing well enough. He is only 19 and is still learning NHL life. On the contrary we believe Bryan Little can be one of the best defensive/two way center's in the league. Can you imagine him as your third line center going into the playoffs? Did I mention he can also pay wing? Remember in training camp a couple of years ago when PoMo tried to move him there permanently? It is interesting to note that Little had his most productive goal scoring year (31) playing right wing back in the Thrasher days. Nonetheless this is just another option.
Of course there is always the talk of keeping captain Blake Wheeler at center. If they can't secure a Tier 1 centre (see below), we believe this will be the next best option. If it comes to this, this will mean that the opposing team will need to face either Wheeler or Scheifele at center ice for at least 40ish minutes a game in the playoffs. Sprinkle in Little, Lowry and Hendricks (who can also be moved to wing if you need him in the line up), the Jets would look extremely tough to beat especially if PoMo doubles up his centers on a need to basis in the playoffs. Ex: Playing Wheeler at center and having Little or Lowry on the wing for important face offs. Wheeler's size alone becomes a very tough thing to contend with in the middle.
The Wheeler option at center will require the Jets to add another Right Winger and maybe another depth forward. Remember playoff time, rosters expand and room is made for depth. This will give PoMo many options including the chance to place Laine (a right winger) on his off wing (left wing) with Scheifele and Wheeler if he chooses to keep 55 and 26 together. On a similar note, Washington does this to much success with Alex Ovechkin. Enough said.
Depending on what type of tolerance level GM Kevin Cheveldayoff has, here is what we think are possible good targets for GM Chevy, prior to the NHL February 26th, 2018 trade deadline. Keep in mind we assume that current possible playoff teams fall out of the playoff race or feel that they will need to make a move based on their standing at the time (points, injuries etc.).
Centers (Tier 1):
Compensation: Most likely a roster player, a first round pick, a second pick and a prospect:
Derek Brassard, OTTA, UFA, 2019-2020 – This one makes a lot of sense. Ottawa is out of it. He has playoff experience. Seems to show up when you need him to. Very good playoff numbers for the Rangers in 2014-2015 (19-9-7-16).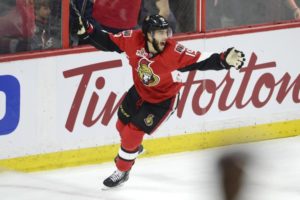 Eric Staal, MIN, UFA 2019-2020 – Would be tough to trade with Wild but if Minnesota can fall out of contention this would be a huge addition to the Jets. Should have signed, this Thunder Bay product when he was a UFA in 2016. He is prototypically the player the Jets want to add. A big center that can play anywhere in your line up including all special teams and top 6. A proven winner with a 3.5 million salary cap hit and a Stanley Cup under his belt.
Joe Thornton, SJ, UFA 2018-2019 – gives you a big center that has been to the final recently and can feed Patrik Laine. "He will never come here?" For 20-30 games anyone will come to Winnipeg especially if it means playing with Laine and getting another chance to win. He had 21 points in 24 games in the Shark's 2015-2016 run to the Stanley Cup. The Sharks would clearly need to be out of the playoff picture for this to have any chance to occur which is not likely.
Brandon Sutter, VAN, UFA 2021-2022 – Long contract at a reasonable cap hit of is $4,250,000. He like Joe Thornton because of his no move would have to agree to get traded. This would be like having another Adam Lowry except with experience. Never hurts to have a Sutter on your team come playoff time.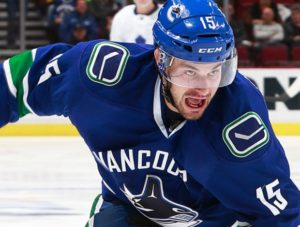 Centers (Tier 2):
Compensation: A pick or 2 and/or a prospect:
Brad Richardson, PHO, UFA 2018-2019 – Gritty and tough to play against. Would be useful in the playoffs.
Colin Wilson, COL, UFA 2019-2020 – Doesn't seem to fit with the Avalanche quite right. From Winnipeg and has playoff experience.
Tomas Plekanec, MTL, UFA 2018-2019 – Has playoff experience, good in the face off circle & can kill penalties
David Desharnais, NYR, UFA 2018-2019 – though small he does create and has playoff experience. Could be a depth center in case of injury
Interesting Center Ice Mentions: Artem Anisimov, CHI, Nick Bjugstad FLA, Adam Henrique ANA, Henrik Sedin VAN, Valterri Filppula PHA, Jori Lehtera, PHA, Cody Eakin LV, Henrik Zetterberg DET, Ryan Nugent Hopkins EDM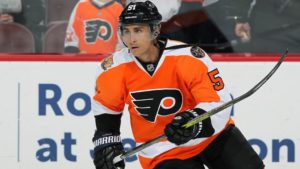 Wingers and Depth Players:
Compensation varies
Teuvo Teravainen, CAR, RFA 2019-2020 – Chevy has wanted him in the past and back to his Chicago roots this Finnish 23 years old would be welcomed by fellow country man Laine and Armia. This would cost the Jets quite a bit for the Hurricanes to consider trading him.
JT Miller, NYR, RFA, 2018-2019 – Solid, hits, can play center and is good in the face off circle. Not sure the Rangers want to move him but Jets interest has been rumoured in the past. He reminds me of a mature Andrew Copp.
Andrew Shaw, MTL, UFA 2022-2023 – Playoff guy just too long of a contract. Knows how to win. This one might be a tough contract to swallow unless Montreal takes some of the salary back. Plays on the edge. This is the type of center/winger that is needed come playoffs.
David Perron, LV, UFA 2018-2019 – Can play top 9 and has real good hands. This would help the Blake Wheeler move to center if that's what the Jets intend on doing.
Justin Williams, CAR, UFA 2019-2020 – Doubt he will leave the Hurricanes. Never hurts to have someone that has won before and come up with the odd clutch goal even at the age of 36. Right handed shot.
Patrick Sharp, CHI, UFA 2018-2019 – Not having a great season but has won before and has a ton of playoff experience. Another depth forward with a right handed shot.
Interesting Depth Forward Mentions: Radim Vrbata FLA, Blake Comeau COL, Mark Letestu EDM, Lance Bouma CHI, Jamie McGinn FLA, Dale Weise PHA
We believe that the Winnipeg Jets are currently in a window, most likely the beginning of their window to bring the Stanley Cup to the Peg. Exciting times especially if they make the right deal that happens to push this team over the top. Good luck Chevy and at the very minimum it's feels great to talk about the possibilities at this time of year…
Frank Zappia
Check out this story and more at
Spinoramahockey.com
Comments are welcome