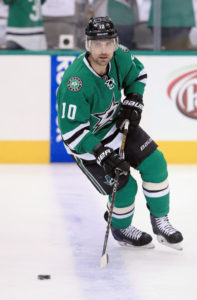 When talking about what needs the Winnipeg Jets have to fill in the off season most of it has been focused on goaltending or defence, and rightfully so. However, there has not been much discussion as to whether or not they should also add a forward. In the past two seasons, the Jets have traded away two key veterans in Andrew Ladd and Drew Stafford. The team has definitely shifted focus by icing one of the youngest teams in the NHL. With that also come the growing pains, which resulted in them missing the playoffs once again last season.
As I look at the players who are likely to hitting free agency, one player who I think they should consider is Patrick Sharp. Sharp only played in 48 games for the Dallas Stars in the 2016/17 season, registering 8 G and 18 PTS, due to a concussion that he had suffered during the season. This was his worst output since the lock-out shortened season in 2012/13, when he scored 20 points in 28 GP. Barring a last-minute signing with the Stars, he will likely become an UFA.
Prior to joining the Stars, Sharp spent 10 very successful seasons with the Chicago Blackhawks. He was a key contributor to their 3 Stanley Cup victories, winning it in 2010, 2013, and 2015. He was also an Olympic Gold Medalist, in the 2014 Winter Games, with Team Canada. However, with the Blackhawks being tight up against the cap, they were forced to trade Sharp and Johnny Oduya to the Stars.
With Sharp set to become an unrestricted free agent, could he possibly fit in with the Jets? Experience definitely counts, and Chevy knows that first-hand. In 2009, the Blackhawks signed UFA Marian Hossa to a contract. The next season they won the Stanley Cup. Now I'm not saying the Jets should sign the soon to be 36-year old Sharp to a 7-year deal, but he could be a good buy-low candidate on a short-term deal.
While his age and recent injuries may be a detraction, especially with the new youth and speed in the game, the importance of having a winner in your lineup is key and is so invaluable. Signing Sharp, who has 142 games of playoff experience, would be a great way for players like Mark Scheifele, Patrik Laine, Nik Ehlers, Jacob Trouba, Josh Morrissey, and Connor Hellebuyck, to learn, first-hand, what it takes to be successful in the post-season.
It definitely would not make sense for the Jets to try and outbid other teams for his services. The deal would have to make sense for the team moving forward. I would say a 2 year offer, between $2-3 million per season (his previous contract was $5.9M/yr) could be in the ballpark of what might be doable for the Jets. In the past, Chevy has done a good job of signing UFAs (Perreault, Jokinen) to manageable contracts and terms. Those who may be concerned about his age and health can look at other players who have had decent years after they turned 35: Hossa, 39, who has had scored 20+ goals twice and 30+ goals once since then. Shane Doan, 40, and Jerome Iginla, 39, who have both scored more than 20 goals, 3 times each since turning 35. Then of course there is Jaromir Jagr. And yes, I realize that he is a one-of-a-kind, special talent. However, back in the first two years of the Jets return they were rumored to have been thinking about offering offered him a contract, as he was an UFA at the time. He was considered too old. More than 5 years later, Jagr is still in the league and is still producing.
The Jets do need to be cognisant of their upcoming RFAs they will need to sign, but they have freed up about $8 million, on expiring contracts. Sharp could still likely slot in on 2nd or 3rd line, with either Little or Lowry. The 7-time, 20-goal scorer would be a great addition on the power-play, which definitely needs to improve from last season.
There is no doubt that Chevy will need to make some key moves in the offseason to get the Jets back into the playoffs, and Patrick Sharp could be a shrewd signing.