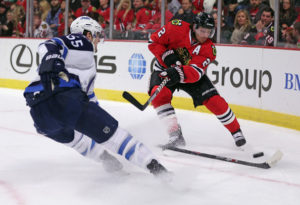 Have the Winnipeg Jets built a Stanley Cup Championship roster? This is the Stanley Cup question? How can you tell? We thought we would have fun with this. Let's start by looking at what we and most people believe is a Jets franchise modelled after the Chicago Blackhawks! We thought the best way to do this is go back to when the current Hawks won their first Stanley Cup in 2010 and see how the roster player by player compares to this years Jets roster.
In a previous post we wrote about how the building of this current Jets team compared to the Blackhawks build over that 10-12 year span that had them raise Lord Stanley's cup in 2010. We concluded a year ago that the building of the Hawk Stanley Cup championship years were eerie similar to what the Winnipeg Jets 2.0 were trying to achieve.
What we did for this exercise is analyze by age, regular season point totals and of course by the unpopular "eye test". Row by row we placed the current Jets comparable to the comparable Blackhawk playoff roster player of 2010. We also included their point totals, position and age.
Our conclusion? We believe this current Jets roster holds up well against that team. Centre ice, forward depth, defence and goaltending in our opinion is an overall win or at the very minimum very close. The toughest player match in our opinion was Patrick Kane. We placed Patrik Laine for star power in this spot but could easily have placed Blake Wheeler there but thought we would match this category by age rather than points and playmaking ability. We placed Wheeler across from Marion Hossa as they were at similar points in their careers. Of course there are many intangibles that are hard to measure (coaching, will to win and environment) but nonetheless, here is our stab at it. Keep in mind that we are measuring points at the Jets 62 game mark of the current season and does not contemplate injuries or games played. Take a look and let us know what you think? Comments always welcome! Click the link below.