The NHL season is almost complete. For some it has been a long and painful one, while for others it's been a coming out party. What better way to summarize it than with some classic tunes that we all grew up listening to: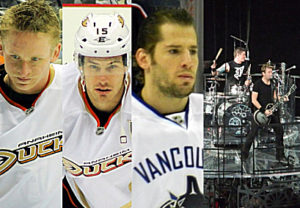 Anaheim:
You Can't Always Get What You Want – The Rolling Stones
Like the Stones, the Ducks top players, Ryan Getzlaf and Corey Perry, are getting up there. Led by an old-school coach, their time may be running out of being a threat in the West, but they are still battling. They came close last season, but were ousted in the playoffs by the Preds. This may be the last go around for the Getzlaf-Perry led group.
Arizona:
Land of Confusion – Genesis
A year ago, the Coyotes were seemingly on the right track with some top young players in their system, like Anthony Duclair and Max Domi, and with the NHL's version of Moneyball at GM, in John Chayka. This season they are battling for last overall with the Canucks and Sabres, Duclair is no longer on the team, and Domi appears to be on his way out.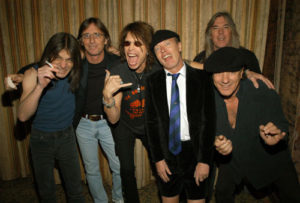 Boston:
Back in Black – AC/DC
With some strong play by both their veterans and young players, the Bruins are back at being one of the top teams in the East, as they have been one of the hottest teams in the second half of the season. With the acquisition of Rick Nash and solid goaltending by both Tukka Rask and Anton Khudobin, the Bruins could be a dangerous team come playoff time.
Buffalo:
Shout – Tears For Fears
The Sabres cleaned house last season, hiring Jason Botterill and Phil Housley as GM and Head Coach, but things have gone from bad to worse this season. Their star Jack Eichel was hurt early in the year and they never recovered from that. The icing on the cake was when they practically gave away impending UFA Evander Kane at the trade deadline.
Calgary:
Moneytalks – AC/DC
Another classic tune by AC/DC. However, the Flames fans know all too well what the song title means with their year-long arena debate. Threats by their owner and the always quotable Brian Burke have seemingly fallen on deaf ears. Throw in a little (pardon the pun) quick fly-in by Commissioner Gary Bettman and the threat of possible relocation, it makes for a real fun atmosphere in Cow Town.
Carolina:
Winds of Change – The Scorpions
Peter Karamnos finally found a taker for the Hurricanes, when he sold majority control of the team to Tom Dundon. Dundon has since 'moved' his GM Ron Francis to another position in the organization. With the team likely to miss the playoffs, coach Bill Peters might be next to go.
Chicago:
You Don't Know What You Got (Till It's Gone) – Cinderalla
One of the best Hair Bands of the 80's! The Blackhawks have been used to winning, having not missed the playoffs since the 2007/08 season and winning a remarkable three Stanley Cups. As they say, all good thing must come to an end and it has thanks to cap problems catching up to them and a key injury to their star goalie, Corey Crawford.
Colorado:
Return of the Mack – Mark Morrison
It's not really a return, but more like a coming out party for Nathan MacKinnon, but it was the best I could as the song title fits. MacKinnon is playing out of his mind, which could land the Avs and playoff spot and Nathan with the Hart Trophy. GM Joe Sakic also deserves a lot of credit for the Matt Duchene haul earlier in the season, which jump started the team.
Columbus:
Bang Your Head – Quiet Riot
Is it just me, or every time I watch a John Tortorella postgame press conference he is either complaining about his team's effort or badgering a reporter for asking a 'stupid' question. The Blue Jackets are well off last season's win total of 108 points, as they battle for a wild card spot in the East. If they don't make it in, the Fonz just may finally lose his cool.
Dallas:
Back in the Saddle Again – Aerosmith
The Stars were a disappointment last year, finishing under .500 and out of a playoff spot. In the offseason they added Ken Hitchcock and also traded for and signed arguably the top two players available on the market, in Ben Bishop and Alexander Radulov. The moves have paid off, as the Stars are back in contention in the very competitive Central division.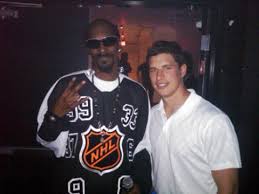 Detroit:
Gin and Juice – Snoop Dogg
For an organization that is not used to losing, Detroit fans have had to endure some lean years, recently which may have caused some to hit the hard stuff. They have not been able to replace Pavel Datsyuk and Niklas Lidstrom. GM Ken Holland is in the last year of his contract, and it might finally be time for the $1 Man, Kris Draper, to take over the reins.
Edmonton:
Don't Stop Believin – Journey
And what a 'Journey' it's been for Oilers' fans. Including this year, it will be one playoff appearance in the last twelve seasons. How many number one picks and coaches can this team go through before they can finally meet expectations? It may have finally dawned on GM Peter Chiarelli that they could really use a Taylor Hall, and not Milan Lucic. They may also want to consider making this tune their new goal song.
Florida:
Round and Round – Ratt
After their 'Analytics' experiment fell through, the Panthers brought back Dale Tallon as their GM, and wouldn't you know it, they are now back in the playoff hunt. Led by Aleksander Barkov, Vincent Trochek, Jonathan Huberdeau and a healthy Aaron Ekblad, they could be a dangerous team in the playoffs.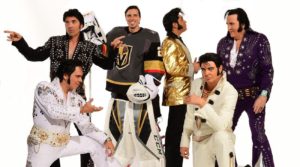 Las Vegas:
Crime of the Century – Supertramp
How does an expansion team end up with 45+ wins in their first season? The answer is $500 million and some head scratching expansion draft deals (Columbus, Florida, Minnesota). You have to also give credit to Head Coach Gerard Gallant (thanks to Florida again) for doing a marvelous job of getting the most out of the other team's castoffs. It will be interesting to see what they can do in the playoffs.
Los Angeles:
Don't You Forget About Me – Simple Minds
All it took was a coaching change and the Kings are back in business. They were also a big player at the trade deadline after acquiring Dion Phaneuf and speedy forward Tobias Rieder, for the final playoff push. I wouldn't want to face this team in the first round.
Minnesota:
Comfortably Numb – Pink Floyd
Is it me or have the Wild been spinning their wheels since signing Zach Parise and Ryan Suter to big money contracts? They have some solid seasons, but they have not been able to get past the second round of the playoffs. And then there was the Hanzal trade last season. Chuck Fletcher's time as GM should really be coming to an end.
Montreal:
What Have I Done to Deserve This – Pet Shop Boys
With the way things have been going this year in Montreal, it's seems as if their struggles have gone on longer than a season. However, they did win their division last season with 103 points. Lack of depth down the middle, average goaltending by Carey Price, and some head scratching trades will do that to you. The good news is Geoff Molson has all the confidence in the world that Marc Bergevin will turn things around. John Tavares could really help.
Nashville:
Even Flow – Pearl Jam
Ever since their long playoff run last season, the Predators have been on a roll. GM David Poile continues to roll too, with the amazing trades he continues to make which improves this already dangerous team. They are pretty much a lock to finish first place in the Central. We'll see what they can do for an encore in the postseason.
New Jersey:
Runnin' With the Devil – Van Halen
What other way can you explain how Ray Shero managed to steal Taylor Hall from Chiarelli and the Oilers. Add to the team's impressive performance this season and we're convinced that Shero made a deal with the Devil. He's made some shrewd trades (Marcus Johansson, Sami Vatanen) and signings (Will Butcher, Brian Boyle) too.
NY Rangers
New York Minute – The Eagles
'Everything can change in a New York Minute, ooooo ooo.' Classic tune that rings so true for the Rangers season. While in the middle of a playoff push, the organization decided to go into sell-mode. GM Jeff Gorton got a nice haul of players and draft picks and the team has played better as of late. He has also freed up some cap space, so the offseason could be interesting (John Tavares).
NY Islanders:
Separate Ways (Worlds Apart) – Journey
'Sleepless nights, losing ground, I'm reaching for you, you, you' is the recent voicemail message that GM Garth Snow left for their soon-to-be impending UFA and superstar, John Tavares. Throughout the season, no story has been more prominent than this one. Will he or won't he? Only JT knows at this point and with another season out of the playoffs, it might be one that leaves Islanders fans in even more despair. On the brightside, at least they will still have Andrew Ladd.
Ottawa:
What's Going On? – Marvin Gaye
Great question! After being taken to the cleaners by Joe Sakic and David Poile in the Matt Duchene-Kyle Turris trade, GM Pierre Doiron may not have an answer for that. Thus far, Duchene has not been the answer for the Sens but the trade did help the Avs turn their season around and solidify the Preds lineup. Add to that the Erik Karlsson situation and things just keeps getting better in the nation's capital. Only thing shorter than the fan's patience will be the lineup to renew season tickets.
Philadelphia:
Won't Get Fooled Again – The Who
Will the real Philadelphia Flyers please stand up? So far this season, this team has gone on a 10-game losing streak, followed that up with a 6, 4, and another 4 game winning streak, only to lose 4 in-a-row, then proceed to win 10 out their next 11, and most recently dropping 8 out of their last nine games. What a rollercoaster! If they end up making the playoffs they'll either make it all the way to the conference final or they'll be out in 4 straight.
Pittsburgh:
Take On Me – Aha
The two-time defending Stanley Cup champions started slow, but they have picked thing up in the second half of the season. The only question mark going into the playoffs is the health of goalie Matt Murray, who has battled some injuries this season. Who will get in their way of a three-peat?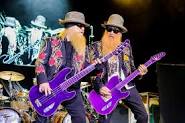 San Jose:
Got Me Under Pressure – ZZ Top
I'll be the first to admit, this has less to do with the title song and more to do with the similarities of the groups look compared to Brent Burns and Joe Thornton. The Sharks aren't really under pressure. They are flying under the radar with some solid play from their young players. Plus they pretty much got Evander Kane for free, and they could be the surprise team in the West during the playoffs.
St. Louis:
Fade to Black – Metallica
On December 17/17 the Blues were tied for 1st place in the Central. Since then they have gone 15-15-3, which has dropped them to 6th in the division and out of a wildcard spot. One of the reasons has been shaky goaltending by Jake Allen, who sports a .907 save percentage. The shocking trade of Paul Stastny to the Jets didn't help things either.
Tampa Bay
Smooth Operator – Sade
Stevie Y is slowly turning into David Poile-East of the NHL. How does he manage to continue making these great deals under a tight cap? The Lightning have also had a very strong season, led by Nikita Kucherov and strong goaltending by their new number one netminder, Andrei Vasilevskiy. A solid bet to unseat the Pens and make it to the Finals.
Toronto:
Born in the USA – The Boss
The ending of the Maple Leafs' 50+ year Stanley Cup drought seemingly falls on the shoulders of a player who was born south of the border. And don't we know it! The rest of Canada is force fed a daily dose of 'What is Auston Matthews doing on his off day?' Only thing worse is that it's Mike Babcock delivering the updates. I can't wait for the coverage during playoffs (insert sarcasm). Matthews has been injured a couple of times this season, so he has needed to enter the protective 'bubble' to heal up. On a side note, goalie Freddie Andersen has been their team MVP.
Vancouver:
Hold On – Triumph
This title song mirrors what the Canucks have been doing with the Sedin twins. While they have some impressive young players on their roster and in their system, like Calder Trophy candidate Brock Boeser, they have been unable or unwilling to move on from Henrik and Daniel, who are in the last year of their contracts. It might have been a good move to trade them at the deadline, to continue with their rebuilding, but the Sedins may have not been interested. As much as they have given to the franchise, it would be a mistake not to move on from them next season.
Washington:
I Still Haven't Found What I'm Looking For – U2
Alex Ovechkin recently scored his 600th career goal. Very impressive. I'm pretty sure he would trade that in for a Stanley Cup. The good news for the Caps is the Pens have played a lot of hockey over the last two seasons, and they could be ripe for the picking. The bad news is they still don't have a playoff built team. Maybe I'm wrong, but if it's not this year the team may want to move in another direction. I'm really surprised that they gave GM Brian MacLellan an extension, with the way he has managed their cap and roster.
Winnipeg:
Break on Through – The Doors
It's been a seemingly long wait for Jets fans but they have finally been able to enjoy the fruits of GM Kevin Cheveldayoff's labor. Take your pick. Connor Hellebuyck, Patrik Laine, Mark Scheifele, Josh Morrissey, or Kyle Connor. They are indeed the envy of the league. Now it's time to find out if this recent success can translate during the playoffs.
Mass DiGeronimo
@mass_Insight
@spinohockey