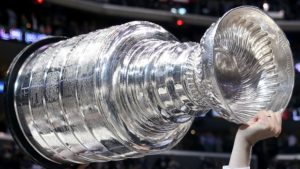 It keeps me up at night! The dreaded question. How long will it take the Winnipeg Jets to win the Stanley Cup? Will they ever win it? Will Canada's most famous corner Portage and Main be opened up to pedestrians one day only to be closed temporarily for a Stanley Cup celebration? Most importantly will they ever win the cup in my lifetime?
Most pundits will tell you that it takes 10-12 years to win Hockey's ultimate prize. This of course assuming you do most everything right to build your winner. I have been thinking about this for a while. How does one analyze if the Jets are on the right path? One can speculate but I needed evidence. A team that has done it before. Let's start with the cliche Chicago Blackhawks that everyone in Winnipeg uses as an example of the draft and develop model the Jets are supposedly on. Though difficult and arbitrary we will do our best to compact and analyze both franchises beginnings of the journey starting with their low points.
Let's start with some history for both franchises. The Thrashers/Jets organization had their lone playoff appearance in 2006-2007 and were awful until they moved to Winnipeg. The Hawks were actually a really good team in the early 90's going to the Stanley Cup Final under Mike Keenan. They had a 103 point Jeremy Roenick and of course future hall of fame goalie Ed Belfour on that team. This era was followed by Coach Darryl Sutter's 3 straight years in the playoffs and then by Coach Craig Hartsburg's 2 out of 3 playoff years but his last year at the helm was the Hawks worst season in 10 prior seasons. For arguments sake we will start the comparison in this year (1997-1998). This was the start of the lean years for the Hawks. We will break this down in 3 segments as we will show you how it took Chicago 12 years to win the Stanley Cup.
Segment 1 – Losing Seasons
Blackhawks 1997-2002 – Year 1-5
There were 5 different coaches in this time frame including Winnipeg Jets 1.0 former assistant coach Alpo Suhonen (remember his name was compared to dog food by Don Cherry – don't ask). The Hawks struggled in this era making the playoffs in only their final year under new coach Brian Sutter. They had a nucleus of some veterans and younger players most notably players in this era were Tony Amonte, Eric Daze, Michael Nylander, Steve Sullivan, Alexi Zhamnov, Chris Chelios & Gary Suter. A few goalies namely Jeff Hackett & Jocelyn Thibault. Draft picks were very weak and no notable NHLers were drafted with the exception of Daniel Clearly who was selected in the first round of the 1997 draft and Tuomo Ruttu selected in the first round of the 2001 draft.
Jets – Atlanta Thrashers 2007-2011 – Year 1-4
The final 4 years of the Thrashers we felt was an appropriate place to start as the Jets 2.0 were not an expansion franchise. Coached by 3 different coaches in Bob Hartley, John Anderson and Craig Ramsay. Notable players were Ilya Kovolchuk, Slava Kozlov, Rich Peverley, Tobias Enstrom and goalie Kari Lehtonen. No playoffs and the only notable draft picks were Z Bogosion and E. Kane who were eventually traded by Jets 2.0. Similar status to the Blackhawks as they had bad drafting and no on ice luck with a few veterans in the stable
Segment 2 – Brutal Seasons and Good Drafting
Blackhawks 2002-2007 – Year 6-9 (2004-2005 was cancelled)
This is the golden era of great drafting that made the Hawks Stanley Cup Champions. Brutal regular season finishes with a combined 54 games under 500 in just 4 seasons. The bad seasons, good scouting and draft positioning made their drafting second to none. Duncan Keith 2002-2nd round, Brent Seabrook 2003-1st round, Corey Crawford 2003-2nd round, Dustin Byfuglien 2003-8th round, Cam Barker 2004-1st round, Dave Bolland 2004-2nd round, Niklas Hjalmarsson 2005-4th Round, Jonathon Toews 2006-1st Round (3rd overall) & the following year (2007) they would draft Patrik Kane first overall. The last two mentioned picks being the most crucial as they picked high in the draft order to get both players. The Kane and Toews picks would prove to be the corner stones of their Stanley Cup runs.
Jets 2.0 – 2011-2016 – Year 5-9 Good drafting to compliment existing core
Unlike the Hawks, Jets 2.0 had an existing younger core when they first arrived in Winnipeg. The likes of Wheeler, Little, Ladd, Byfuglien, Enstrom & Pavalec to name a few. This can be perceived as a good thing or a bad thing. Starting from scratch seems to work better when stripping down a franchise for this draft and develop model. Regardless management felt they have a good core in place and seemingly on the right path with a group of picks that potentially have an upside to compliment their existing core. Mark Scheifele 2011-1st Round, Adam Lowry 2011-3rd round, Jacob Trouba 2012-1st Round, Josh Morrissey 2013-1st Round, Nikolaj Ehlers 2014-1st Round, 2015 has a host of potential major contributors but too soon to judge and of course 2016 – 1st Round pick and the highest of all the Jet draft picks to date Patrik Laine who (drafted 2 overall). The only thing missing is a goaltender which they may have in 2012-5th round pick Connor Hellebuyck or 2013-2nd round pick Eric Comrie.
Segment 3 – Stanley Cup Champions?
Blackhawks 2007-2010 – Year 10-12, Stanley Cup Champions
As the draft and develop model continued to mature the Hawks missed the playoffs in 2007-2008 but finished 6 games over 500. 2008-2009 they finally made the playoffs after a coaching change 4 games into the season going from Denis Savard to Joel Quenville and went all the way to the conference final setting up their eventual march to the Stanley Cup in 2009-2010 when they beat the Philadelphia Flyers in 6 games. Complimenting the roster with a mix of youth and veterans at this stage in the build proved to be the clincher for the Stanley Cup victory. In July of 2009 the Hawks signed Marion Hossa from Detroit to compliment their already talented roster.
Jets 2016-2019 – Year 10-12 or 13?
The Jets are 39 games into 2016-2017 and the Jets look young and inconsistent. Currently, at the time of this article the Jets are 2 games under 500 and out of the playoffs. Coaching, goaltending and a young roster all question marks. The Hawks in year 10 finished 6 games over 500 and out of the playoffs. The following year they would fire their coach, bring in Joel Quenville and would make the playoffs winning the Stanley cup in year 12. Can the Jets win the Stanley Cup in the next 2-3 years? Hard to say but this will coincide with Wheeler, Little, Enstrom and Byfuglien trailing in and out of their prime years. In my opinion, the Jets will need a strong second half to this season to keep on track with the Blackhawks. Does Winnipeg's coach Quenville come along or does the very experienced Paul Maurice get the job done? Does the Jets goaltending eventually become good enough to put this team over the top?
Regardless of your opinion on the above there are some major similarities to the paths both teams were and are on. Ultimately the paths seem similar but the intangibles of a team roster and make up can only be judged in retrospect. So will the Jets win the Stanley Cup in the next 3 years or in my lifetime for that matter? I sure hope so. Closing Portage and Main would be worth it…