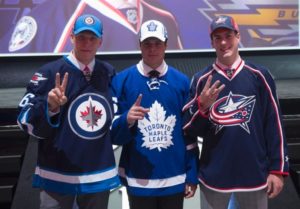 NHL's rookie of the year trophy, a.k.a. the Calder trophy is awarded annually to the NHL's top rookie scorer…arghh….check that…let me try that again. The Calder Trophy is awarded: "to the player selected as the most proficient in his first year of competition in the National Hockey League".
Let me first say that I think Austin Matthews is a special player. Even enjoy watching him play some nights. But I need to get this off my chest. If I have to listen to one more media type in Winnipeg (never mind the constant barrage from the Toronto media) that say Austin Matthews should beat out Patrick Laine for the Calder Trophy I'm going to throw a Jeanne's cake at my TV set. What ever happened to homerism? I've checked, this is a word. This notion that Laine has to finish with so many more points and/or goals than Matthews to win the Calder is not only insulting to every perogy eating, fake jersey wearing, looking for a deal cheapskate Winnipeger, but it is also historically inaccurate!
Since when does the leading point getter in the NHL (exceptions to defensemen and goalies) not win the Calder Trophy? Of course, I am not saying that Laine will win the scoring race, just saying that if he does, he should win the Calder Trophy based on what I see up to the writing of this article. The sceptics? Oh yes, I forgot he's not as good defensively as Matthews. First off that is debatable. If plus/minus is an indicator which I know the analytic folk would say no, Laine is currently a plus 9 and Matthews a plus 3 on a Leafs team that is currently 9 games better than the Jets. On an aside, I would ask how much of our local media actually watch Leaf games to make this defensive game judgement. Equally, you may want to ask the pundits at the center of the universe as to how many of them go out of their way to watch Jet games and keep up with Laine and his developing defensive game.  I'm sure they would rather watch a Toronto Argonaut's game instead… Unfortunately, throughout time this is why points are used as the barometer in voting as it is for other trophies (see comments below).
Back to the "Matthews is better defensively" and that's why he should win the Calder argument. Really? Let's try this argument with another NHL trophy. How about the Norris Trophy? Annually awarded to the NHL's top defensemen.  Even the NHL's top defensemen award nearly always is awarded to the defensemen with the most or near the top of defensemen points.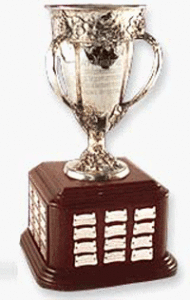 If you don't believe me, here is a list of Calder Trophy winners from 1980-81 that are not defensemen or goalies. 22 Forwards won the Calder Trophy and all of them lead the rookie class in scoring with the exception of Chris Drury in 1998-99 who finished 4 points behind Milan Hejduk & 2 points behind Brendan Morrison in a very low scoring race. Pavel Bure in 1991-92 also was an exception, though he had the highest points per game that year and only played 65 games due to injury (also points per game is a category Laine is leading in).
2015-16 Artemi Panarin
Note: Beat out McDavid who played in only 45 Games but had 48 points
2013-14 Nate MacKinnon
2012-13 Jonathan Huberdeau
2011-12 Gabriel Landeskog
Note: A winger who had 4 more goals & was tied w/52 points w/Ryan Nugent-Hopkins who was a center.
2010-11 Jeff Skinner
Note: A winger with 7 more points and 1 less goal than center Logan Couture
2007-08 Patrick Kane
Note: Winger w/3 more points & 7 more goals but was -5, Trailing Kane was Backstrom a center was +13
2006-07 Evgeni Malkin
2005-06 Alexander Ovechkin
Note: Ovechkin had 4 more points and 13 more goals than Crosby the center. This is very interesting as we hear these names as comparable to Laine & Matthews.
2001-02 Dany Heatley
1999-00 Scott Gomez
1998-99 Chris Drury
Note: Finished 4 points behind Milan Hejduk & 2 points behind Brendan Morrison.
1997-98 Sergei Samsonov
1994-95 Peter Forsberg
1992-93 Teemu Selanne
1991-92 Pavel Bure
Note: Finished 4th but had the highest points per game. Only played in 65 games.
1989-90 Sergei Makarov
1987-88 Joe Nieuwendyk
1986-87 Luc Robitaille
1984-85 Mario Lemieux
1982-83 Steve Larmer
1981-82 Dale Hawerchuk
1980-81 Peter Stastny
The moral of the story is if Patrick Laine wins the rookie scoring race he should be the rookie of the year. I know it can't be solely decided on pure points, but to make the defensive argument for me is a precedent setter. Come on Winnipeg media types, be homers (which by the way would make you historically accurate in the Laine vs Matthews argument). Time to wake up and smell the perogies…