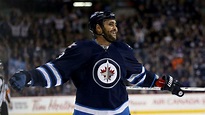 The suspension of Dustin Byfuglien has raised many eyebrows around the league but few have noticed that the move essentially guarantees that the Jets will be signing someone soon.
With about 15.5M in cap space(thanks Cap Friendly!), the Jets are in tight to sign star wingers Kyle Connor and Patrik Laine.  The problem however is that they need to sign both at the same time.  If for example they sign Connor to a 7.5M deal for 8 years they would only have 8M left in cap space for Laine, enough in most peoples' eyes to sign the sharp shooter, but not enough to protect against a 9.5 M offer sheet.
With Byfuglein's salary not on the books at the start of the season even if they were to sign Connor to a lucrative 8 year deal, they would have plenty of cap space to fend off any offer sheet from Ottawa or Anaheim (Columbus is likely out of the picture, not having their own second and third round picks).
That sure works out well, but what if both Connor and Laine hold out past the opening day puck drop?  In that situation, with Connor, Laine and Byfuglein's salaries all not on the books, the Jets are below the minimum salary cap expenditure.  Which means they would probably need to sign someone.  Even with Gabriel Bourque, Mark Letestu and Logan Stanley playing in the big club, they would still be below the minimum.
In essence, why would the Jets take Dustin Byfuglien's salary off the books unless they were planing on signing a player imminently.  Byfuglien wears an 'A' for a reason.  We may end up owing a lot to him as Jets fans in the end.  
I expect the Jets to sign someone soon.
James McLellan
@spinohockey