Can you imagine showing up at work one day and your boss tells you that we don't like how our business is performing and we need to let you go.  You were great last year but this year isn't working out.  Oh and by the way we are replacing you with your assistant.
It may be early in the NHL season, but already there are rumblings as to which current head coach might be close to being replaced. Last season was the first time since 1996-97 that a coach was not fired during the hockey season. However, there were a few teams that made changes in the offseason, including Calgary, Carolina, Dallas, and the New York Rangers.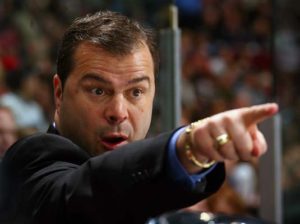 It's no secret that head coaches of professional sports teams have a limited life span. In the NHL, head coaches have one of the highest turnover rates in major sport, averaging about 3.4 years. With the high turnover, successful coaches can maybe get 3-4 chances of being hired by a new team (or even the same team that once fired them). One coach who has, until now, seemed to have bucked that trend is Joel Quenneville, who has been the head coach of the Chicago Blackhawks since 2008. Also, the new up-and-coming coaches from other leagues like the AHL or college ranks put in their time and wait for their chance for a job in the major league. 
Granted teams that have recently hired a new coach will not likely be candidates for making any changes. It's the teams who have had a coach for around three years or more and their team is not meeting expectations that may possibly be looking to make a change.
Teams that are more likely to make a coaching change during the season include: Chicago, Detroit, Edmonton, LA, Minnesota, Philadelphia, and St. Louis. If I were to choose dark horse team to make a change it would be Tampa Bay. Expectations are high for this team to win the Cup and with Julien BriseBois recently taking over from Steve Yzerman, he may want to bring in his own coach. 
Here are a list of some of the top coaching candidates that you might see behind an NHL team bench this coming season:
"The Recycled"
Alain Vigneault – he's had two strong runs with the Canucks and NY Rangers, coming within a game of winning the Stanley Cup with Vancouver. Excellent regular season track record with 648 wins and his teams have only missed the playoffs twice in his 12 seasons as head coach. Has to be considered the front-runner for teams looking for a replacement, but he won't come cheap.
Michel Therrien – in what seems like ages ago, Therrien led the Montreal Canadiens to a 50-win season back in the 2014-15 season.  Surprisingly, he was fired by the Habs when their record was 31-19, which they've had difficulty getting back to since his departure. You think that was rough, this is the same guy that got fired from the Pittsburgh Penguins only to see his team go on to win the Stanley Cup!  Currently a scout for Montreal, a proven winner,  he should get another shot at leading a team.

Dave Tippett – the former longtime coach of the Arizona Coyotes is now working as a special advisor for the Seattle group looking to land the next NHL expansion team. Shrewd move by him, as this will likely land him a permanent job with Seattle either in management or as their first ever head coach.

 

Paul MacLean – while probably a dark horse, the former Jack Adams Trophy winner surprisingly has not been given another HC opportunity after his short stint with the Ottawa Senators. The long-time NHL assistant coach most recently worked in that position with the Anaheim Ducks could get one more shot at being head coach.
Darryl Sutter – I know, I know, he's retired. But the last I checked Stanley Cup winning coaches do not grow on trees. Two Stanley Cup wins and a great regular season track record may entice a team like the Edmonton Oilers, if they decide to move on from Todd McLellan. While often criticized for his tough coaching style, it very well could be what the Oilers need to get them back on track. The chance at coaching a player like Connor McDavid and with the team so close to home, might be the only job Sutter will ever consider.
"The New Kids on the Block" 
Sheldon Keefe, Toronto Marlies (AHL) – has been a top candidate for head coaching jobs for about the last two seasons. Considered the Jon Gruden of hockey, putting in long hours in order to perfect his craft. Led Marlies to Calder Cup win last season.
Pascal Vincent, MB Moose (AHL) – entering his third season as coach of the Moose, Vincent has been with the Jets as an assistant coach before that.  Led the Moose to a big turnaround last season and a playoff berth after team had third worst record in the AHL the season before. Has been talked about as one of the top up-and-comers in the coaching ranks.
Jay Leach, Providence Bruins (AHL) – Leach is a fast rising young star in the coaching ranks. He has had success leading the Bruins both as an assistant and as their HC since the start of the 2017 season. Previous to that he was an assistant with Scranton-Barrie.

 

Nate Leaman, Providence Friars (NCAA) – odds are good that Leaman joins the growing list of college coaches making the jump to the NHL. He has spent the last 7 season as coach of the Providence Friars, winning the NCAA championship in the 2014-15 season, and his college head coaching career dates back to 2003.
John Madden, Cleveland Monsters (AHL) – the former 3-time Stanley Cup champion with the New Jersey Devils has been the head coach of the Cleveland Monsters since 2016, after taking over from Jared Bednar.   Previous to that, Madden spent 3 seasons as an assistant for the Florida Panthers.
"The Over-the-Shoulders" 
Dan Bylsma, DET – with Jeff Blashill entering his fourth season and with Red Wings continuing to struggle, he could be next in line if team decides to make a change.
Kirk Muller, MON – also a former head coach of the Hurricanes, Muller has been an assistant with a couple of teams while waiting for his next opportunity.
Jack Capuano, FLA – former Isles bench boss should get one more chance as a HC after a long tenure with the Islanders. In his previous two seasons before getting fired, Capuano led the Isles to 47 and 45 win seasons. He should get another shot.
DJ Smith, TOR – like Keefe, Smith has been mentioned as possible HC candidate during the last round of coaching hires. With Mike Babcock entrenched behind the bench in Toronto, DJ will likely need to take his music elsewhere in order to become a head coach.
Kevin Dineen, CHI – as an assistant coach with the Blackhawks, he might be in the perfect spot for an opportunity, due to Coach Q's long and seemingly endless tenure. Rumors had Quenneville parting ways with the team during the 2017 draft, and being fired at end of last season. He could be a losing streak away of being replaced.
Todd Nelson, DAL – spent a short stint as head coach of the Oilers, until Todd McLellan became available. Since then he's had a successful run coaching in the AHL and now in his first year an assistant in Dallas. He will probably get another chance as head coach after having the plug pulled prematurely during his first season.
Marc Crawford, OTT – veteran coach who previously had four NHL head coaching jobs and a stint overseas, he helped bring the Sens within one game of SC Final. This season, with seemingly nothing to work with, the team if off to a surprising start. Could be due for one more chance.
Luke Richardson, MON – once considered the heir to the Ottawa Senators HC job, Richardson was snubbed and he left the organization for other opportunities. Currently, he is in his first season as an assistant in Montreal, he spent last season in same position with Isles.

 

Lane Lambert, NYI – Lambert has been a Barry Trotz mainstay since 2011 as an assistant coach with the Nashville Predators. He helped Trotz lead the Capitals to their Stanley Cup victory last season and has since followed him to the Island. His coaching career dates back to 2002 in the WHL. Lambert's name has been brought up quite a bit as candidate for a HC job and he has definitely put in his time.

 

10.Ian Laperriere, PHI – Ian's career ended abruptly after suffering from concussion symptoms in 2010. Now entering his 6th season as an assistant coach for the Philadelphia Flyers, he could be the future Flyers HC if the rumours of firing David Hakstol ever end up becoming true.
Coaching in any league is a tough business especially when everyone is gunning for your job in a results based environment.  Point of advice, if you things aren't looking good the next morning, call in sick.
@Mass_insight
@spinohockey