by James McLellan

There is a lot of buzz going on throughout the NHL about the new cadre of RFA's and the salaries they are demanding.  But what difference does paying the upcoming RFA class higher salaries really make?  And who does it really affect?
With the NHLPA revenue sharing agreement, the RFA's are not squeezing more money from the owners.  The profit sharing between the NHLPA and the NHL has already been established at 50%.  The RFA's are asking for more money from their fellow players.  It seems like neither the agents or the RFA's are looking or talking about the elephant in the room: total NHL cap space.
As of writing this post and subject to some future creative cap maneuvering, there is approximately $190M in NHL cap space.  The top 3 cap teams (Toronto, Washington and Pittsburgh) have $4 M in salary that must be shed so we are left with $186M.
That seems like a lot of cap space but we have to remember a few things.  
First, contender teams like to leave some cap space to add players at the trade deadline for their post-season run.  Most would like to have between $1-2M in space.  Near the end of the season that cap room builds up and can equate to a high priced player for the last 20 games and the post season push.  There are about 6-8 contender teams each year at the start of the season.  
Second, lottery teams are reluctant to spend to the cap if they know they will not be playing in late April.  This makes sense, as with no playoff revenue forthcoming and the need to stock up on talent at the draft, the best money plan is to lay low if you are unlikely to have an impactful season.  These teams tend to keep more cap space, and if possible, weaponize it at opportune moments.  Often such teams will retain in excess of $8M in cap space.  In any given season there are about 3-6 teams like this.
The remaining teams fall somewhere in-between $1M and $6M in cap space throughout the season.  What this means is the there is about $100M in cap space that will not get used by September.  In fact, often more.  Last year there was about $140M in unused cap space at the conclusion of the NHL season.
Regardless, we will be conservative here and say teams keep $80M in cap space for flexibility and financial reasons.  This leaves us with $106M to sign all RFA's and UFA's on the market for September.
Hmm.  Let's think about that.  $106M to sign the 2019 crop of RFA's and any other UFA's.  Let's take a look at a sampling of this years' RFA class.  I have included a conservative estimate of their contract AAV.  If I am way high please comment and correct me:
Zack Werenski($7M) Joel Edmunson($2.5M) Kyle Connor($7M)Patrick Laine($7M)Matthew Tkachuk($7M)Jesse Puljujarvi($1.5M)Brock Boeser($6.5M)Colin White($4M)Charlie McAvoy($7M)Adrian Kempe($3M)Ivan Provorov($4M)Mikko Rantanen($8M)Joel Eriksson EK($1.5M)Travis konecny($4M)Mitch Marner($9M)Pavel Zacha($2.5M)Anthony Beauvillier($2.5M)Kevin Fiala($3.5M)Nik Goldobin($3.5M)Brendan Perlini($1.5)Anthony Deangelo($4.5M)Brendan Lemieux($1.5M)Adam Erne($1.5M)Marcus Pettersson($3M)Ivan Barbashev($2M)Andrew Mangiapane($1.5M)Denis Malgin($1.5M)Brayden Point($7M)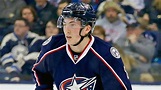 This is not an extensive list of RFA's.  There are another 26 lower profile RFA's beyond this list. Looking just at these 28 players however is revealing.  My current estimate lies around $115M.  If you include the remaining 26 RFA's at league minimum we are at $130M.  Without any UFA's signed.  That would leave about $56M in cap space or roughly $1.8M per team starting in September.  Historically the league has about $10M in players placed on LTIR. That would bring us up to an average of 2.1M per team. A super-naturally low number.
$2.1M in cap space per team would be a problem for the league.  Essentially there would be no liquidity, no flexibility, no mobility.  Teams would not be able to trade or sign anyone out of the fear and realization that there are no teams with enough cap room to get a team out of cap trouble.  That kind of cap lock up could cause cap non-compliant teams to border on forfeiting games or buy out recent signings just to free up breathing room.
What we are likely to see is a massive drop off in salaries and potential release of capable RFA's.  UFA's like Jake Gardiner, Ben Hutton, Brian Boyle, Derik Brassard and Jason Pominville may need to take a lot less $ and less term to get a job.  Unfortunately, the cap will get tighter and tighter as the signings progress with the last players to sign left with little to no leverage. On the other hand, those teams that have held on to their cap space will enjoy a true talent firesale.  If, as rumoured we see the RFA class hold out into training camp, expect to see a large class of UFA's hanging around waiting for contracts as well.  Possibly into the season if the RFA's holdout further.
It is going to be an interesting August.
at @spinohockey